Board of Trustees
The charity is governed by a board of Trustees representing a broad range of interests from across the ophthalmic industry and profession.
The Board of nine Trustees are jointly responsible for making the charity effective; providing overall direction for the Trust and maintaining sound management of funds.
Day-to-day running of the charity is delegated to the Membership and Administration Secretary.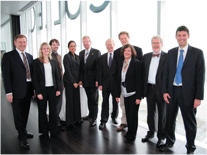 The Board of Trustees
Iain Anderson, Vivien Freeman, Rosie Gavzey, Ian McDermott, Kelly Plahay and James Russell.
Anne Grenyer is a co-opted board member representing the views of the Association of Optometrists (AOP).